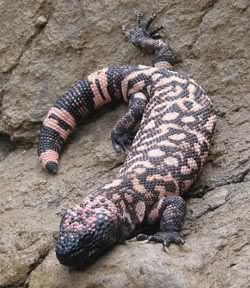 BYETTA, the new injectable drug from Amylin and Lilly, popularly know for being derived from the venom of the Gila monster (a large, slow-moving orange and black lizard that inhabits the deserts of southwestern US and northwestern Mexico) hits drug stores today. Available by prescription.
________
For an overview of the drug:
FDA Approves of BYETTA™ (Exenatide) Injection for Type 2 Diabetes
Photo thanks to
Indianapolis Zoo
.